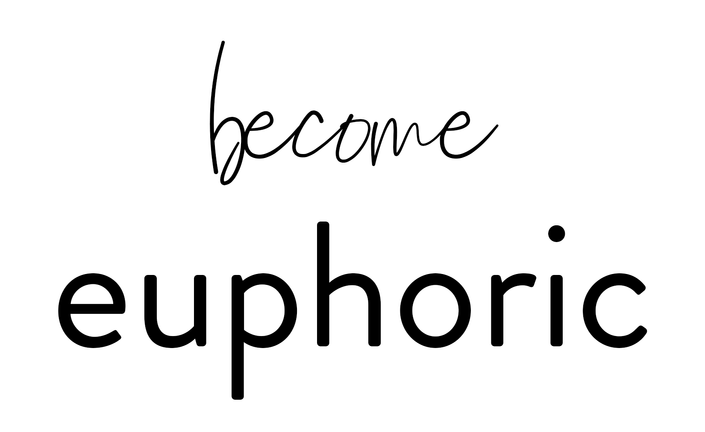 Become Euphoric
Find absolute freedom from alcohol to live your dream life and go after what really makes you happy.
Yes, please
READY TO

BUILD YOUR DREAM LIFE?

GOOD, LET'S GET STARTED

Let me just say . . .

You're not here because you can't moderate

You're here because your intuition is telling you that you were made for more than drinking every weekend and have so much untapped potential to discover. There is a confident, more alive, more inspired version of you that is waiting to emerge . Waiting to show you what you are capable of without a drink and push the boundaries of your dreams.
As seen on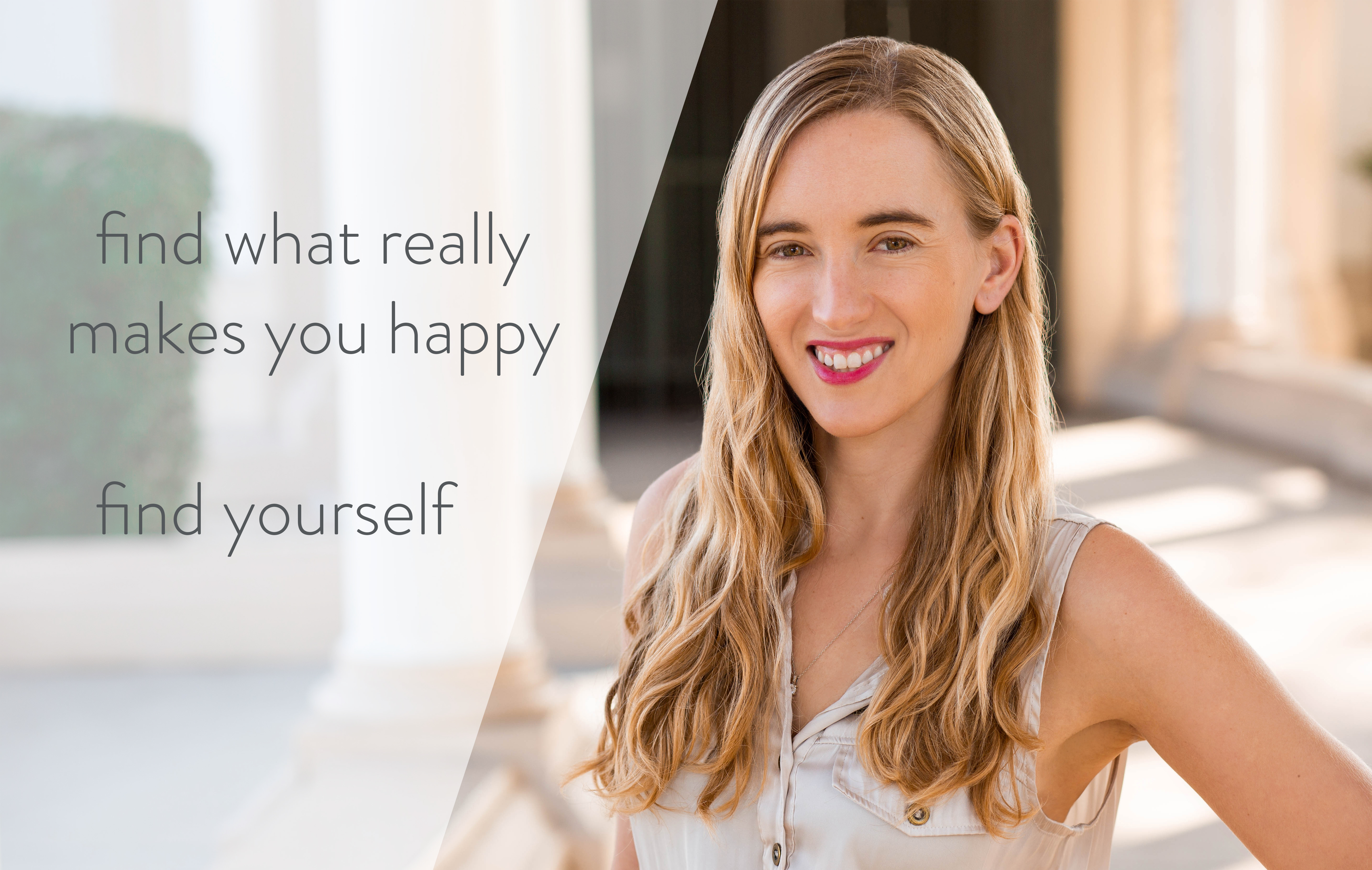 Become Euphoric with a life that's

bigger than a beverage

You're smart, ambitious, and soulful, but have a sinking suspicion that alcohol is holding you back from your fullest potential. Too many fuzzy mornings, workouts shirked, and feeling unmotivated and stuck.
You want to make positive changes in your life, but are worried what people would think if you gave up drinking. Isn't that only for people who drink in the morning?? But still, alcohol plays a bigger role in your life than you'd like. And looking into it feels embarrassing.
But it's not embarrassing.
Drinking more than you want to is the most common experience a drinker can have

Studies show that drinking more than you intend to, either in a single occasion or throughout the week, is actually the most common experience a drinker can have. Worrying about your alcohol intake does not mean that you have to label yourself with a problem.
Think about it, do we wait until we are obese to eat right? Or couch potatoes to work out. Evaluating if alcohol makes you ultimately happy is not embarrassing.
It's the most life-affirming thing you can do.

YOU WEREN'T MEANT TO BE

STUCK. YOU'RE A DREAMER

MEANT TO SHINE

60 days of transformation

8 weeks of self-discovery

Turns out, there is so much freedom and happiness on the other side of worrying about what people think.
If you're ready to take the leap, evaluate the role of alcohol in your life, and find your truest potential, Become Euphoric is for you.
It's for ambitious dreamers who seem to drink more than they want to but want to discover what they are capable of without a toxin in their system.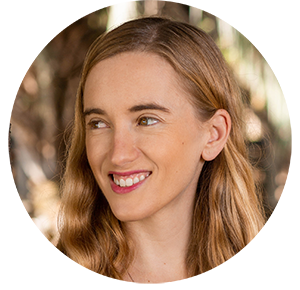 The course is all about YOUR self-discovery and empowerment by taking a positive and intuitive approach to redefine your life and develop the best version of you. Learn more about the science of alcohol and habit formation, and how you can gain freedom with tools to better understand your feelings and emotions .

Ready to live a life you've never lived? To see what you are capable of without a toxin in your system weighing you down?

You have a love/hate relationship with alcohol

Trying to figure out if you have a problem with drinking has been an enigma; sometimes

you're responsible and moderate, sometimes you don't

You feel uncomfortable with words like "alcoholic" and know that AA is not right for you

Your life looks pretty good on the outside, except that drinking keeps you hungover, feeling low, and stuck in the same old routine

You've tried not drinking before but always go back to fit in and be "normal"

You have a few days/weeks of sober living but feel stuck and deprived

You want more resilience to manage your thoughts and emotions


You know deep down you were meant for more

You want to connect with your inner guide, find true joy, and build the life of your dreams

Your Instructor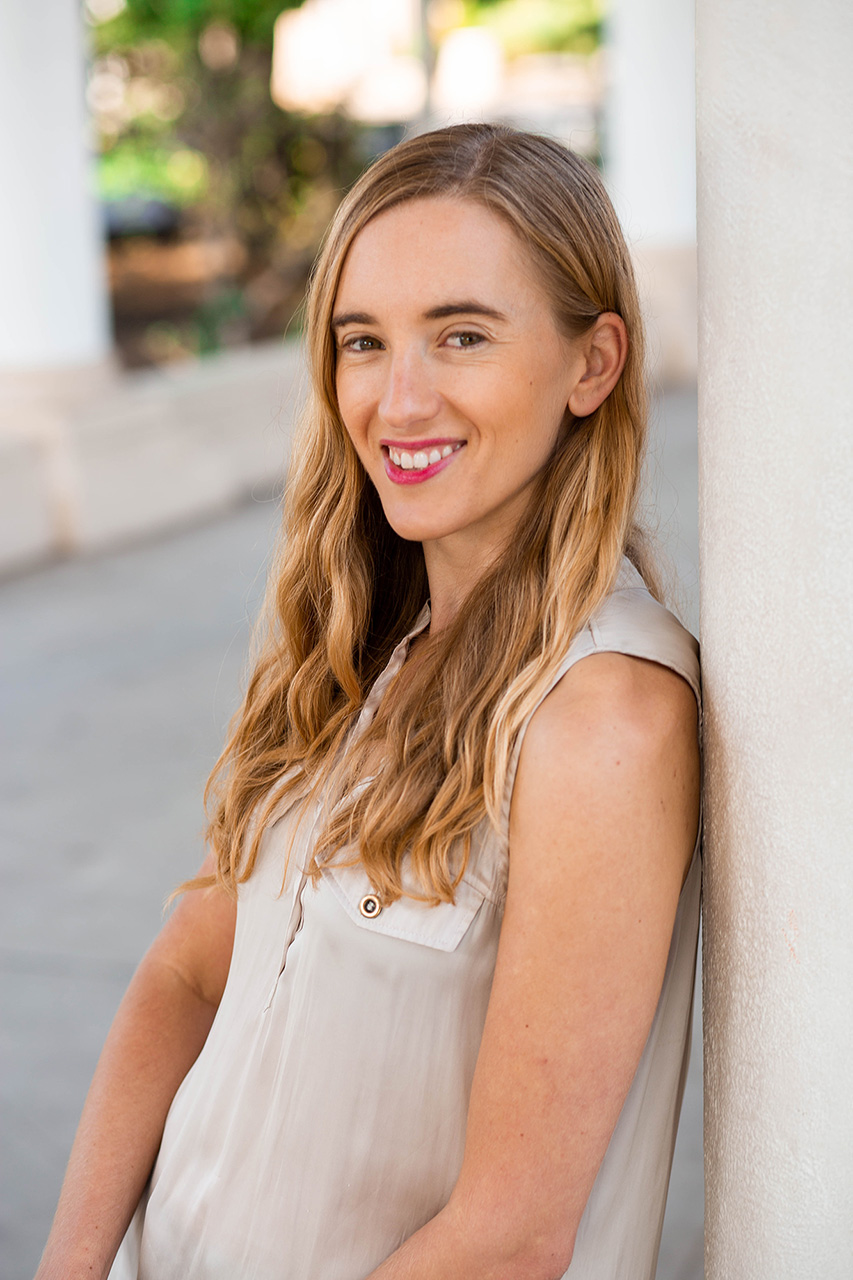 Hi, I'm Karolina and I'm a life and transformation coach empowering you not only to transform your relationship to alcohol, but also to transform your whole life, find what truly makes you happy and build a vision that's way bigger than a beverage.
I founded Euphoric Alcohol-Free, a space to discover your best life away from alcohol grounded in happiness, choice, and individuality—the very things I needed to make the best decision of my life. I had a love/hate relationship with alcohol, that made me feel small, stuck, and like I wasn't living up to my fullest potential. When I finally embarked on an alcohol-free experiment, I found the most incredible euphoric lifestyle and challenged myself to smash my self-limiting beliefs. I dived deep into self-development and transformation and realized I was done sitting on the sidelines of my own life and developed the practices I needed to become the star instead. I hope to share this beautiful life-affirming lifestyle with you and help you build the life of your dreams.

I have a Master's degree in literature and writing and an MBA in social enterprises. Since 2018, I've been working with clients to transform their relationships with alcohol and discover their happiest selves as a certified life and transformation coach. My work has been featured in the Huffington Post, Greatist, Refinery29, Elite Daily, Sobriety Starts Here, This Naked Mind, and other outlets. My programs are based on the premise that discovering a happier and more fulfilling life is the best way to institute impactful change. Drinking becomes a side note when you're busy building the life of your dreams.

WHY WAIT FOR YOUR BEST LIFE?

COURSE CLOSES ON MAY 10

Don't identify as an "alcoholic?"

Neither do I. Trying to figure out if my drinking was normal or abnormal kept me stuck, plus the label terrified me. Defining "normal" is a enigma. Sometimes we drink responsibly, other times we don't, and everyone around us seems to be doing the same thing.
It was only when I asked myself, "does drinking make me ultimately happy?" that I knew the answer.
Does drinking make you ultimately happy? Do you find yourself drinking more than you want to and feeling ashamed and stuck? Is drinking holding you back from the life of your dreams? Who could you be if you never experienced a hangover again?
LIVE A LIFE YOU'VE NEVER LIVED
Become Euphoric helps you understand your subconscious desires and become the type of person who just doesn't want to drink. The course allows you to discover a happier life where alcohol just doesn't cross your mind anymore.
WHERE ALCOHOL DOESN'T

CROSS YOUR MIND AND YOU

CAN FOCUS YOUR ENERGY ON

WHAT REALLY MAKES YOU

HAPPY
Become Euphoric is a logic-based empowering approach that removes your desire to drink while you get high on building the life of your dreams. It combines neuroscience, psychology and principles of self-actualization to learn how alcohol and habit formation works, discover healthy coping skills and reflect deeply and passionately on what we really want from our lives.

No labels, no judgement, no strict rules

I'm going to teach you how to discover your best life away from alcohol without feeling deprived, missing out, wearing a label, or having any less fun.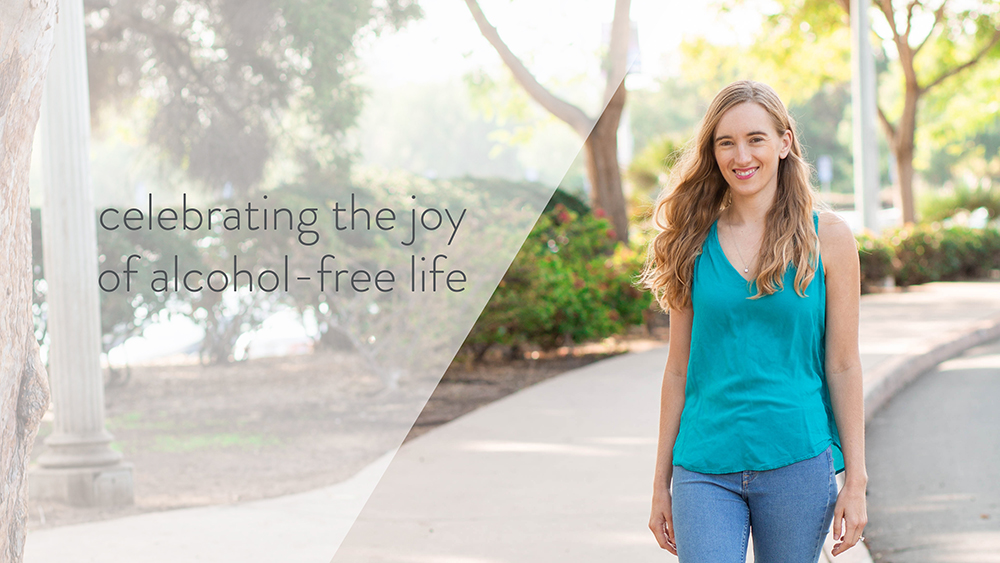 Become Euphoric gives you a chance to find the real you away from the fuzziness of alcohol. Transformations include:

Pervasive sense of

happiness and joy

Feeling less stress and anxiety

, and learning how to relax without alcohol

More energy and motivation to workout

Cravings for healthier foods

Drastically improved health: just a few weeks off the sauce has proven to lower cholesterol levels and blood pressure, increase neuron regeneration and gray matter, improve liver function, boost a stronger immune system and lower your risk of cancer, heart disease and dementia.

Most participants lose weight!

Best sleep of your life

Looking younger and more radiant

Freedom from cravings and constantly monitoring yourself

Breaking past self-limiting beliefs




So much money saved

Fostering deeper connections with friends and family

Renowned sense of integrity, self-respect and self-love

Boosted self-esteem and acceptance of yourself

Heightened confidence and pride that spills over into all areas of your life


Increased productivity, drive and ambition to create what you really want in this world


Awestruck feelings of gratitude, awe and appreciation

New life experiences and ignited creativity


Finding your

calling, meaning and purpose
READY TO BEGIN YOUR NEW LIFE?

Stop sitting on the sides of your life

Become the star and build the life of your dreams

Today could be the first day of a life you've never lived. Take a moment of silence and ask yourself, were you meant for more? More than hangovers and the disappointment of drinking more than you wanted to? Is doing the same thing every weekend fulfilling your soul?
Become Euphoric is a transformative course designed to key you into your natural happiness and joy and go after what you really want in life. I know you have BIG goals and dreams. I know you are capable of achieving them. This course is designed for you dreamers who want a positive approach, want to increase your vibe, and build the life you were meant to live.

Become Euphoric includes:
Sixty days of course curriculum, from cultivating awareness to self-fulfillment

Daily email coaching

Daily journal prompts to discover your truest inner desires


Biweekly video coaching

Weekly activity to make what you learned work for you




Private Facebook group, for a whole community of supporters
You'll also get these incredible BONUSES:
How to develop a morning and nightly routine

,

modeled after the highest achievers

Nutrition guide and sleeping tips


Delicious alcohol-free drink recipes

Become Euphoric calendar, and accountability contract




How to handle obstacles

Visualizations and affirmations


Socializing tools and mindset shifts

Why your soul is your best guidance system


Latest scientific discoveries on alcohol and health effects




How to discover new hobbies and passions

Curated resources and podcasts


How not drinking is a rebellious act of self-love




How to find your purpose and true calling
Discover the weekly themes below.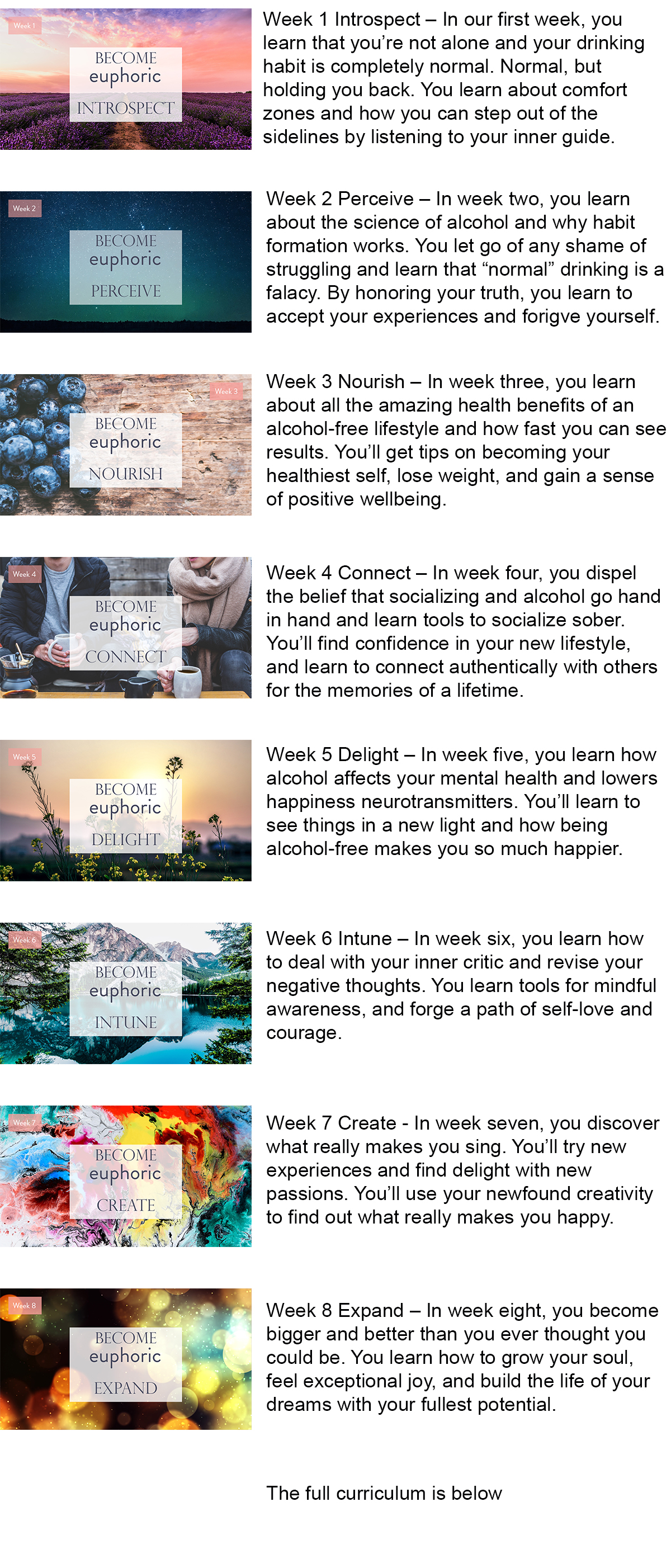 Course Curriculum
Before We Begin
Available in days
days after you enroll
DISCOVERING A HAPPIER AND

MORE FULFILLING LIFE

IS THE BEST WAY TO

INSTITUTE IMPACTFUL CHANGE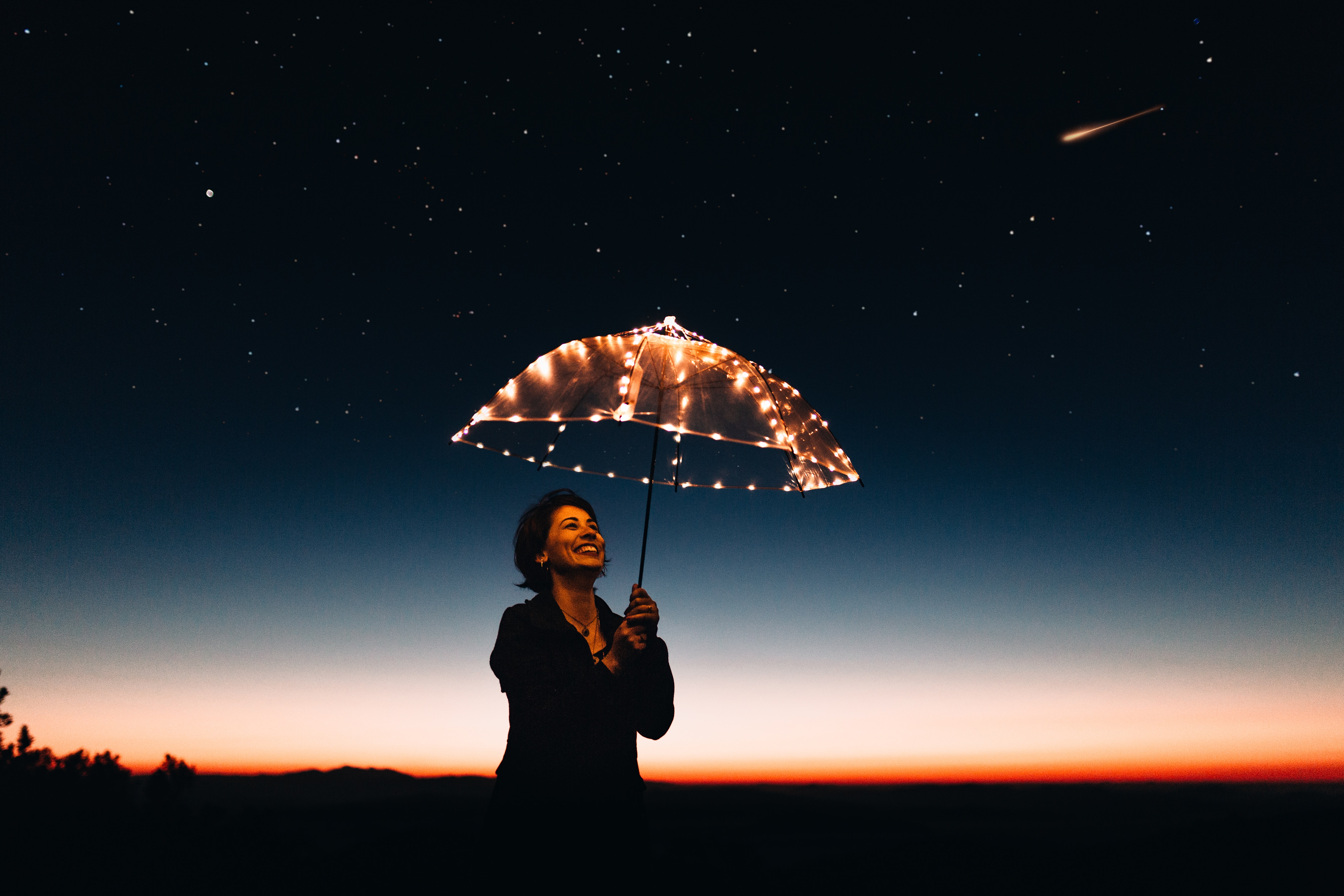 WHAT OTHERS ARE SAYING

ABOUT THE PROGRAM

"I'm so glad I found Euphoric. I was so sick and tired of my drinking life, but had no interest in AA or anything that would make me feel low about myself. Happy to report I'm on day 95, and have so much more on my mind--LIFE!"

- Erin

"I wish I saw something like this a long time ago. The program helped me realize how drinking doesn't serve me--physically, mentally, emotionally and spiritually--and finally put the nail in the coffin on alcohol for me. I used to have so many excuses on why I couldn't change but none of them apply anymore. I'm so much happier now."

- Jackie

"Karolina's course changed my life. So grateful to have reached six months sober! Everything spoke to me in a way that I had never heard before. Why spend another moment feeling blah when I could seize the life I really want!"

- Brittany

"I feel better than I have in a really long time. I've lost so much weight, am sleeping so well, and I just feel young and alive again. Thank you so much!"

- Christine

"Karolina is such a tremendous asset to me on my journey towards an alcohol-free life."
- Anthony

"It's time to end the stigma caused by people wanting to do something good for themselves. I believe becoming alcohol-free is the best gift you can give yourself, because it makes you start thinking differently about your habits and how you live your life. I'm so glad to see this new perspective!"

- Allie

"You were so extremely helpful. I feel so much healthier in body but even more so in my mind and have finally taken control of my wellbeing."

- Sarah

Frequently Asked Questions
What's it about and how does the program work?
Are you ready to not drink for 60 days and find out what really makes you happy? Day 1 will be your first day towards your new life. The modules each last seven days for a total of 60 days of self-discovery. It's all virtual, confidential and convenient for your lifestyle. The core of the program transforms your relationship with alcohol. But Become Euphoric isn't an addiction recovery treatment and not about managing a condition. It's about evolving and growing beyond an unhealthy coping skill, and becoming empowered to align your life with what you really want to create, like making an impact on the world, or achieving greater success.
How is the course structured?
The course is hosted in an online school, and each day, you'll have a course lesson on an introspective topic along with a journal prompt to work through your own feelings and deeply held beliefs. Each week includes two coaching videos to provide an overview of what we learned, and a day of reflection and activities. Expect to spend about twenty to thirty minutes on the program every day.
What if I am unhappy with the program?
The goal is to help you find more happiness! If the course isn't for you, please contact me in the first 30 days and you'll get a full refund.
I'm not sure I want to quit drinking forever. Is this program right for me?
Absolutely. Alcohol is a sneaky habit and many of us find that we drink more or more often over time. Learn the tools you need to break the habit, handle your emotions in healthier ways, and get in touch with your deeper desires. Commit to 60 days and see how you feel at the end. When we re-evaluate the role of alcohol in our lives from a place of fulfillment and purpose, alcohol slowly loses it's allure.
I'm not looking for a challenge. I want to quit forever. Will this program work for me?
Yes! Ultimately it's about creating a life that you don't want to escape from and challenging yourself to build the foundation for your soul's expansion. Simply not drinking can feel hard and it's easy to feel deprived and left out. Become Euphoric removes cravings, subconscious desires, and self-limiting beliefs, and gives you the motivation and inspiration to develop your soul for the next phase of your life.
How long do I have access to the program?
Forever. After enrolling, you have unlimited access to the program for as long as you like. Even after the 60 days are done, come back to the content for a refresher as you evolve into different phases.
Shouldn't I be able to do this on my own?
Could I not drink for a few weeks on my own? Sure, but I would inevitably feel deprived and isolated. Become Euphoric changes your mindset, to look out for the positive and really discover yourself and a greater sense of happiness in the process. Being connected in a learning community is the key to transformation.
I don't know if I can afford it?
It's safe to say I spent at least $64 bucks on booze each week. A few bottles of wine, a 12 pack for entertaining, and some drinks with friends out dining. Easily. Think about your weekly alcohol expense and you'd be surprised if it wasn't at least $64 a week, if not way way more. You might even save money with this program! But think of what you are really gaining. Breaking a complex habit and urge, finding more joy in your life, finding yourself away from societal pressure, quieting your inner critic, and actually finding what you really want to do with your life, from hobbies to your career. That's such a beautiful investment into your self-care, your health, your mental wellbeing, and your soul's expansion.
I've had a few days/weeks/months of sober living. I still feel stuck. Could this program help me find my purpose and more happiness?
I'm so happy you've taken the first steps towards a life of clarity and listening to your own inner guide. It doesn't happen overnight, but you are on the right path towards complete transformation. Become Euphoric is all about finding the real you and discovering more joy, freedom and what makes your soul sing. It includes guides on how to tap into your creativity, ambition, and calling. And let's kill all that romanticism for alcohol and any remaining desires to drink ONCE AND FOR ALL.
Is this for women only?
No, it's for everyone!
DISCOVER FULL

TRANSFORMATION TODAY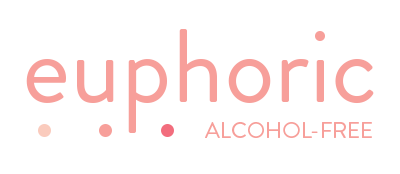 Disclaimer: if you think you might be physically addicted to alcohol, Become Euphoric may not be the program for you. It does not replace medical treatment or care from your doctor. Become Euphoric is not a detox or 12-step program. By participating in Become Euphoric, you agree to the full terms and conditions. The material contained in the program and ancillary bonus materials are provided for educational purposes only and are not intended as medical advice. This information is not intended for those who have severe physical dependency upon alcohol. As always, consult your physician or medical health care provider before dealing with any alcohol addiction.